The Great American Road Trip

BY NICHOLE HOLZE
The most important thing to keep in mind when on your road trip is to enjoy your time away from all your stressors. Slow down. Look closer. Pay attention. Breathe. Be present. These simple mantras weave their way through our lives in the form of inspirational posters, journals, planners, in any form of media. And yet, we fail to slow down. The speed at which we live drives us to an insane amount of busyness. Then, when we are able to use our precious bit of vacation time, we spend inordinate amounts of money to pack in as much entertainment as possible.
---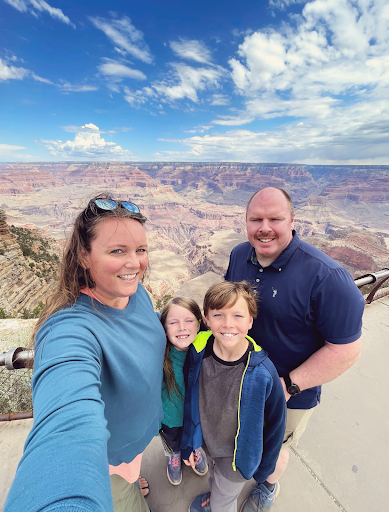 This is not an argument against action-packed entertainment, but rather an argument for slowing down.
Simplifying. Forcing yourself to be present. When it comes to vacations and family time, there is no better way to force yourself to slow down than to take a road trip. Take the back roads. Get lost on the side roads. Enjoy the winding roads. Notice things. Look out your windows and watch the terrain change and the small towns that dot your journey. Drive your family crazy with off-key car karaoke. Listen to great speeches. Find some new podcasts. Vibe to hard rock, classic rock, screaming rock. Get lost in your own home state. Discover a small town restaurant with amazing pancakes and coffee. This is my ode to road tripping and a call to rediscover the great American road trip as the family vacation of choice.
My husband and I remember taking long road trips with our families as children—hours and hours of being stuck in the car with only our crayons, coloring books and imaginations. And we survived. My sister and I honed our wit and creativity while entertaining each other in the backseat. My husband and his brothers did the same. For his family, packing for a road trip also involved loading up a cooler filled with everything needed to make epic sandwiches. They stopped at roadside rest stops, feeding their family of six out of that cooler. Throughout our childhood road trips we camped, we stayed in some fantastic hotels and we experienced some pretty creepy places. This has all provided excellent fodder for storytelling as adults.

As adults, our journey into choosing road tripping grew out of necessity.
My husband's career moved us far away from any family. Restless with missing family, I decided to try making the 14-hour drive with my children over the course of two or three days. And I discovered something: I could do it. It was hard, scary and exhausting. But it was also exhilarating and exciting. As my children got older and I grew bolder, we began taking longer trips, often chasing down whatever whim struck my fancy. Some of our most incredible stories take place down side roads that I had the courage to wander down.
The storyline in the movie "Cars" tugs at my heartstrings, specifically the story of Radiator Springs and the town the interstate passed by. The interstate systems we have are a civil engineering marvel, and I do appreciate them. But I also have a soft spot in my heart for the small towns that sit in decay because of all of the drivers choosing to make good time instead of have a good time. A revival of the great American road trip will also give these little gems of towns a chance to thrive again.
Route 66 is one of my favorite pieces of Americana history. We have "gotten our kicks" more than a few times on that old road. By choosing to chase down some history, we discovered a small patch of the old Musical Highway that still exists outside of Albuquerque, N.M. By driving precisely 45 mph, with your tires just over the right side, the rumble strips play out one stanza of "America the Beautiful." It's completely silly and completely amazing. In its prime, that stretch of Route 66 had whole lengths of the highway with music. It was designed as a speed control mechanism. They encouraged folks to slow down and listen to the music—still an apt lesson today.
That's really the whole lesson.
Slow down and listen to the music. The music that is the beauty of a sunset while driving west. The rhythm that is a conversation with a depth you haven't felt before, carried out as the miles tick along. The melody that is watching fields of crops wave in the wind. The squeaking brakes of the old car in the one horse town, or the clanking of coffee mugs in the roadside diner early in the morning. The music that is the sound of your own heartbeat as you gaze at the night sky. The music that is the peace in your heart that has only been waiting for the chance to show itself.
---
If you're ready to chase some of that music with your own family, here are some tips for keeping the kids entertained in the car.
---
Sticker Books
One time I looked in the rear view mirror to see why it was so quiet, and I burst out laughing because my daughter's face was covered in stickers. But she was happy, so, win?
Melissa and Doug Paint with Water Books
These are life savers for little kids. You fill the "paint brush" with water and they can paint the pages over and over because they return to white once the water dries.
Magnetic Activity Tins
These have always been a favorite. My son has one that has all different parts to build bugs and my daughter loves her silly faces tin.
Brain Quest
These have been around a while, but they're a great boredom buster.
Buddha Board
A paint with water type activity for older children.
Talking Games
Play games like I-spy, or work your way through the alphabet by spotting words on signs that start with the letter you're looking for.
See Also

Hour Markers
Sometimes I've packed a special piece of candy or small toy to hand out to my kids when we reach a certain time point or mile marker, like one piece of candy every hour/few hours/etc.
Audio Books
Choose titles that are appropriate for the whole family or let your kids listen independently on an electronic device with headphones.
Actual Books
If we are traveling as a family, you'll find my nose in a book for the entire drive. Luckily, I don't get car sick, and neither do my kids.
Apps
In our family, we are okay with the use of technology, within limits. Here are a few of the apps that my kids have really loved. I'm pretty strict about what is okay and my parameters are: no ads and no player versus player or online game format.
For younger children: Fair Lady Media is an app developer that makes games like Cooking with Grandma, Grandma Loves Bug, Fishing with Grandpa and more. They are simple, not loud or obnoxious, and kept my kids entertained for hours. The Disney coloring game is also fun.
For older children: Minecraft is always a favorite, along with Lego Star Wars games and the developer Toca Boca. The games have no ads, or you can pay a one-time fee to remove ads.
---
Read more road trip insights from Nichole here.
More Road Trip ideas for Texarkana Locals.
Never afraid of a long drive, Nichole is a homeschooling mom to two and wife to Ryan. Coffee, always, and black please. You can probably find her scheming up their next road trip while hiking in the woods. Experience-based learning and good books abound in their home school as they chase the spark of curiosity where it wanders on the road less traveled. Read about Nichole's shenanigans on her blog at luckeywanderers.com.