Eating for Two: Nutrition Tips for a Healthy Pregnancy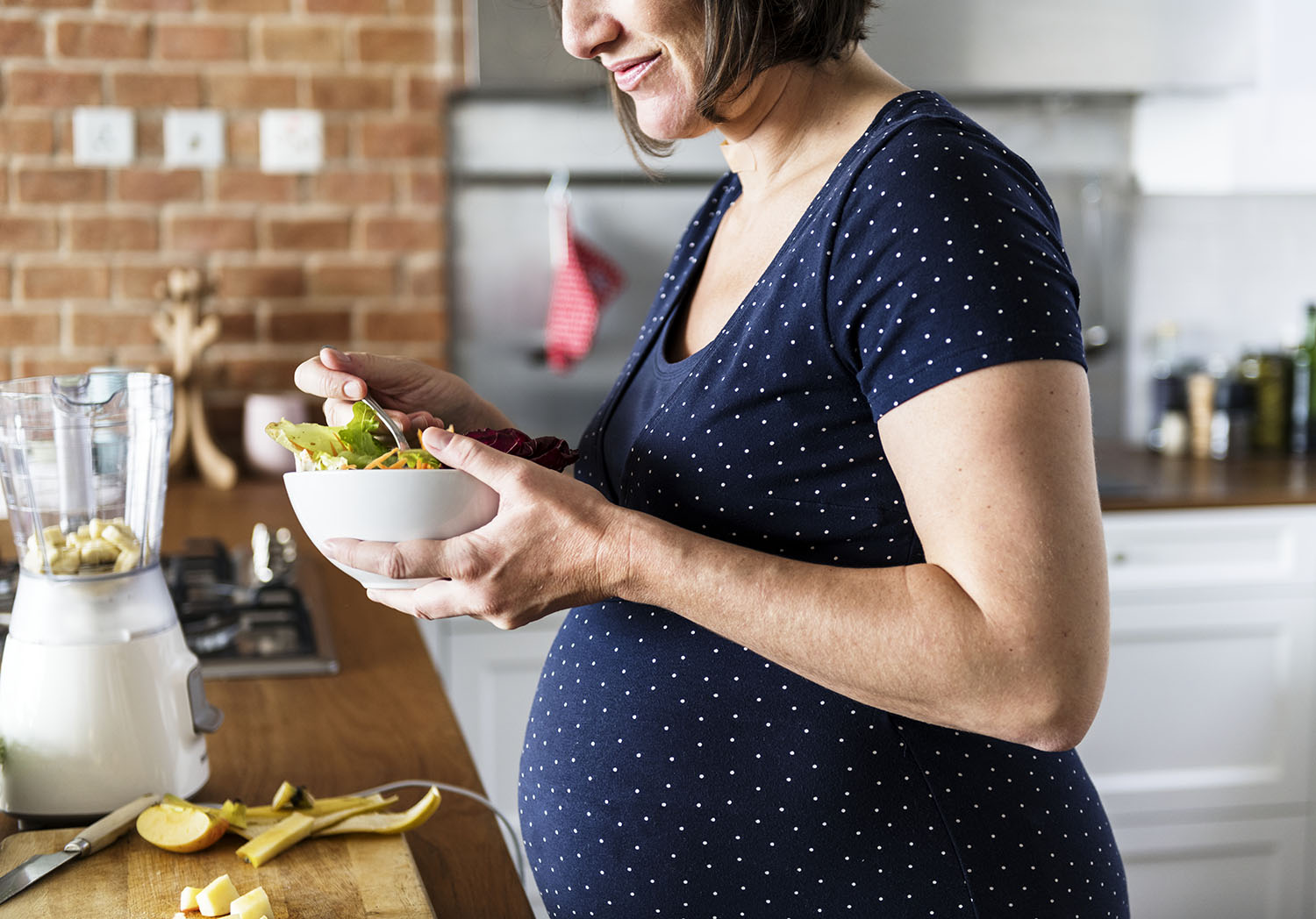 by Bren Gonzalez
Your body has specific nutritional needs when you're growing another life, and it can be tough to balance those needs with pregnancy cravings.
Of course, cravings are cravings—if you can't get that special food out of your mind, go for it! If you can, though, try to take a mindful approach to your pregnancy cravings. Choose foods that are rich in nutrients. For example, if you're craving a Reese's Peanut Butter Cup, swap to dark chocolate almond filled Hu's Kitchen Bars. When you're craving fried food, try making your own. I like to bread chicken strips with almond flour, drizzle avocado oil over it, and bake it for a crispy treat—check out my recipe at the end of this article.
When you're pregnant, it's more important than ever to have a balanced diet that's high in nutrients and fiber and low in bad fats and processed foods. And when it comes to daily vitamins, prenatal vitamins are definitely a must. For those who don't like to swallow a large pill, many brands now make liquid prenatal supplements.
Pregnant women need an additional 100-300 calories per day, but just adding a tablespoon of an organic nut butter is 300 calories. It's not about eating a lot of food—it's about the nutritional value it provides you and your baby.
Nutrition recommendations for pregnant women
Eat vegetables! A quantity of dark leafy greens per day, whether raw, steamed or sautéed, can be very beneficial.

Eat fresh fruits. Check out ewg.org to know when you should buy organic and which non-organic fruits are safe to eat.
Eat protein. Make sure your diet includes eggs, chicken, beef and fish. If you're vegan, try to eat protein that is soy free. And when it comes to fish, watch your mercury intake and stick to lower mercury fish like salmon.
Eat legumes. Lentils, peas, chickpeas and green peas will help pack your diet full of much-needed fiber.
Hydrate. Drink fresh juices, plenty of water, and tea made with honey instead of other sweeteners.
Avoid certain herbs. Turmeric is a natural blood thinner, so avoid it while pregnant. Ginger, although it can help with nausea, tends to lower blood pressure. Instead of ginger, make yourself a tea with licorice or try hot water with honey and lemon.
Also avoid the amino acid phenylamine. It is found in some supplements and can alter brain growth in the fetus. This is also found in sweeteners like Nutrasweet, Equal and some diet drinks. Make sure to read labels!
Don't eat sushi or undercooked meats of any kind.
Don't smoke, vape or consume alcohol. These not only affect your baby's development but also your overall health.
---
Bren's Baked Chicken
Ingredients
1 cup unsweetened almond milk
2 tbsp apple cider vinegar
3/4 tsp sea salt, divided
1 lb boneless, skinless chicken breasts, cut lengthwise into 4 strips
1 1/2 cup blanched almond flour
3/4 tsp paprika
3/4 tsp freshly ground black pepper
Instructions
In a medium bowl, mix together the almond milk, apple cider vinegar, and 1/4 tsp of salt. Add the chicken, ensuring it is submerged. Then, add to a baking dish and drizzle about a teaspoon of olive oil on each piece. Sprinkle each piece with salt and paprika. bake at 350 for 30-45 minutes.
---
About the Author: Bren Gonzalez's Be Healthy By Bren is a lifestyle brand with a healthy approach to living. She shares and offers a variety of services and products. Visit behealthybybren.com for more information and product recommendations.