Haylee Breedlove Shares Her Experience as a CHRISTUS Volunteer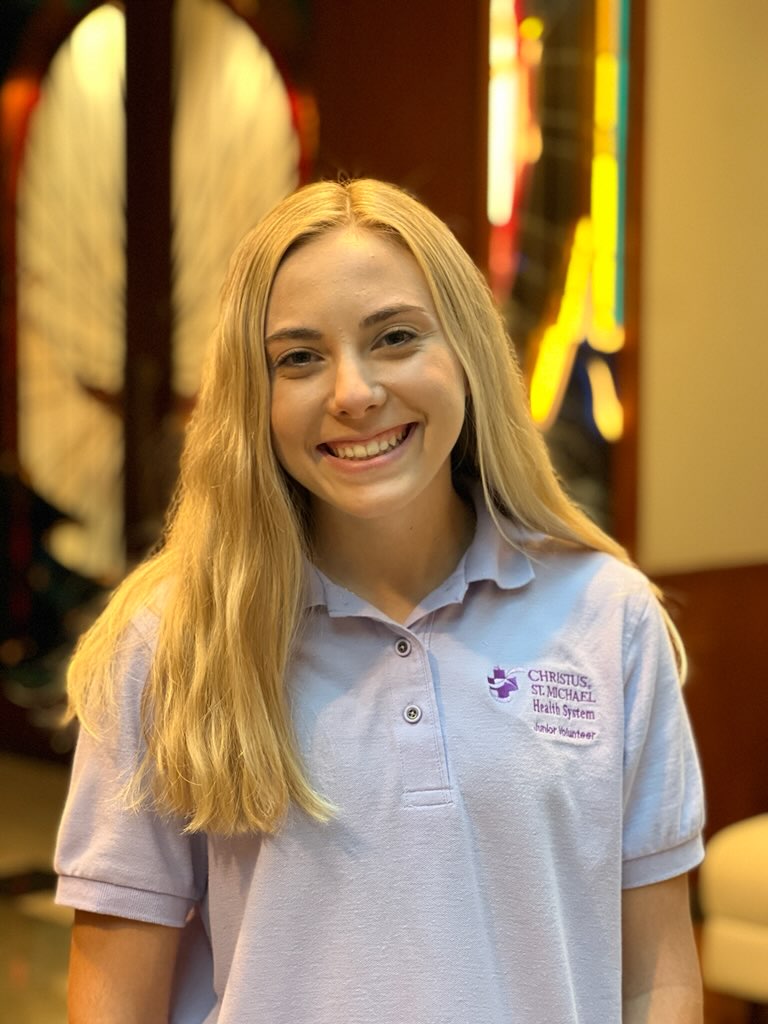 CHRISTUS St. Michael has opened its doors for student volunteers for summer 2022. Bloomburg High School student Haylee Breedlove, an aspiring physical therapist with a passion for helping people, will be starting her third summer volunteering this year.
Haylee said she became interested in the medical field initially due to her mother, who suggested that Haylee join the Summer Junior Volunteer Program. She said her mom has worked at the rehab center and cancer treatment center and is currently an educator.
"My mom works at St. Michael's, and she told me about the Summer Junior Volunteer Program about three years ago," she said. "I want to go into the healthcare system, so I was like, 'that's a good start for me.'"
As a volunteer, Haylee has the opportunity to get hands-on experience in several different areas at St. Michael's. Volunteers get to choose up to three areas in the hospital they want to assist with.
"I've worked in the physical therapy area, and I've also worked in the radiology department," she said. "In physical therapy, I watched how the therapists got patients out of bed, how they formatted their notes, or bring patients down a hallways—just what a physical therapist does on a day-to-day basis."
Haylee has a drive for helping people, making the medical field a great career choice for her.
"I like that I'm doing something good," Haylee said. "This is going to sound cheesy, but I like it when you talk to a patient and they see you smile, so they start smiling. It makes their day."
Young people ages 14-18 seeking to expand their horizons and explore an exciting future in health care can applying for the CHRISTUS St. Michael Health System Summer Junior Volunteer Program through May 6, 2022.
See Also

"The Summer Junior Volunteer Program provides a valuable opportunity for young people to a make a contribution to their community as well as to explore health care careers," said Sherrie Parks, Junior Volunteer Coordinator.
The Summer Junior Volunteer Program runs from June until July. Interviews for acceptance into the program will be held May 9-18, and applicants will be contacted to schedule an interview. All accepted Junior Volunteers will be required to participate in orientation on Tuesday, May 31.
"Definitely sign up," Haylee said. "You learn a lot, it'll look good on your college application and you get good experience."
---
Applications are available online at https://www.christushealth.org/st-michael/about-us/volunteer or pick up an application at CHRISTUS St. Michael Health System Information Desk in the front lobby of the main hospital located at 2600 St. Michael Drive, Texarkana, TX 75503. For more information, contact Sherrie Parks at sherrie.parks@christushealth.org or 903-614-2716.