Sharpening the Saw: Choice Boards Make Summer Learning Fun

by Taryn Chambers Givan
Most kids view summer months as a time off from learning, but research shows that students who engage in some type of learning during the summer have an easier transition to the next grade when the school year starts. Any time our children aren't engaged in the acquisition of knowledge—such as during summer break or extended absences—they can experience learning loss.
That doesn't mean kids should sit in a classroom all summer, though. Summer educational activities should be fun! In fact, this is the time for children to engage in more self-directed learning because they aren't restricted by curriculum or standardized testing.
With summer activities that tap into their creativity, reasoning and problem-solving skills, not to mention their reading and writing, most kids won't even realize they're learning.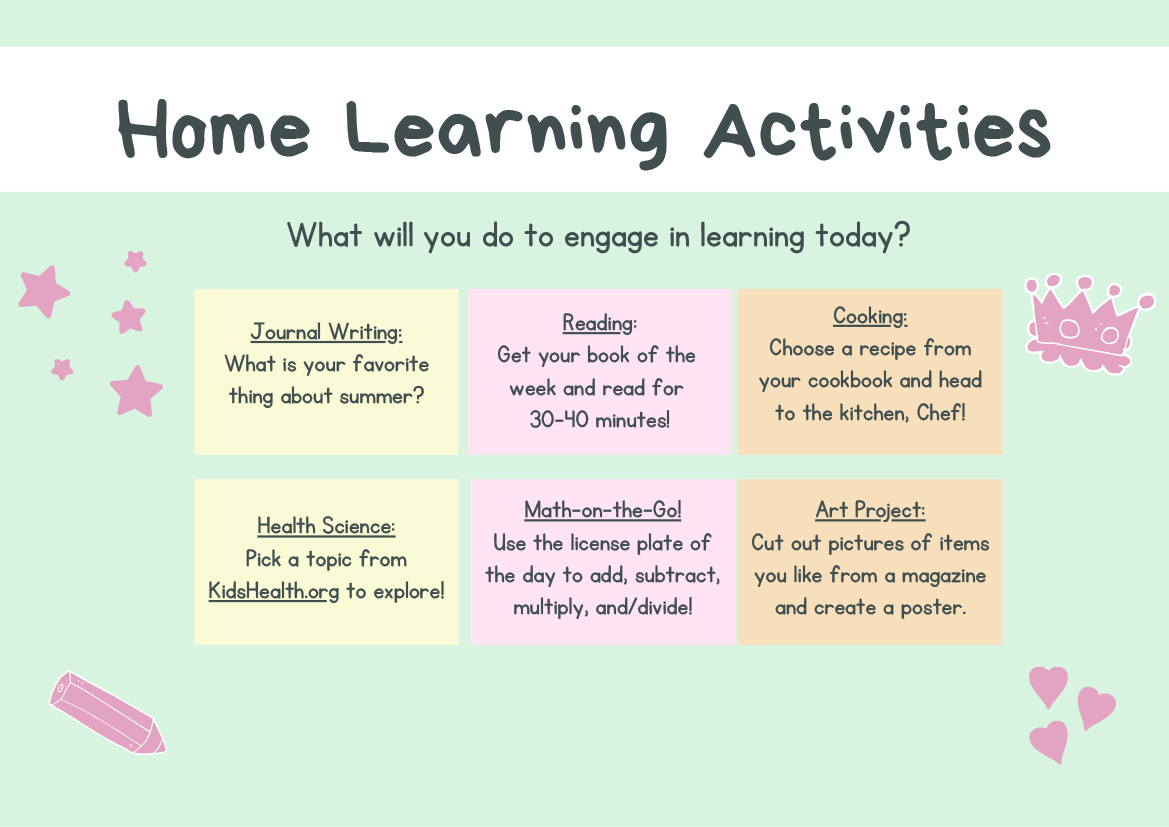 A choice board is a great way to center a child's focus on learning. Teachers often use choice boards to provide students with options for the kinds of activities they're going to complete. This allows the kids to exercise choice within a predetermined set of options.
Choice boards can be as simple or as complex as you'd like. You can create a digital choice board complete with hyperlinks to websites, a streamlined printable version in a platform such as Canva, or simply drawn on a dry erase board or paper. Some parents use themed choice boards each day of the week for math, reading, writing, science, art, coding, etc., while others have a variety of subjects all in one.
Ready to create your own choice board? Here are a few activity ideas to help you get started.
Journal Writing
Encourage your child to write weekly about a topic of their choice or use prompts such as:
What is your favorite thing about summer?
If you could plan the perfect summer vacation, what would it be and why?
You have been selected to direct a movie for kids to enjoy during their summer break. What would it be and why?
5 things I like about myself are…
Letter Writing
One way to help your child do something special for others is to incorporate letter writing. Your child can write to a family member, an elder at a local nursing home, or to a pen pal. This is a great way to practice handwriting, especially in a world consumed with using a keyboard, and to put a smile on someone's face at the same time.
Reading
Have your child create a summer reading list to guide their reading schedule or participate in Scholastic's Summer Reading Challenge. For the most reluctant readers, providing choice is one way to get them engaged.
Cooking
One unique way to practice reading, following directions, sequencing and measurement all at once is to prepare easy recipes. You can pick up a kid's cookbook or find recipes online. This can lead to your kids sharing treats with neighbors or selling their edible goodies.
Health Science
Your child can learn about their immune system along with parts of the body and so much more at KidsHealth.org.
Math-on-the-Go
Use license plates from each state to have your child practice arithmetic and/or look for patterns. This could also turn into learning a fun fact about the state.
Art Projects
Whether they draw using a sketchbook, use online tools, or create a collage using pictures from old magazines, the incorporation of an art project allows your child to use their imagination. This can be done with or without a 'must have' such as requiring shapes or specific colors such as red, purple, and green.
Brain Teasers
Use games, puzzles, and/or riddles to challenge your child's thinking and expose them to new vocabulary, phrases or concepts. I love Wordle, but it's not exactly kid friendly. Have your child try Spellie (spelliegame.com) instead!
Coding
It is never too soon to expose your child to computer science. For children interested in coding, check out these two ready-to-use choice boards for grades PK-3 & 3-6.
Taryn Chambers Givan, a native of Texarkana, Texas, is the Founder & CEO of Divergent Educational Consulting, LLC and Manager of Learning & Development-1:1 Services and Instructional Coach with BetterLesson. She is in her 21st year as an educator and is the blessed wife of Antonio, mother of Endyia and bonus mom to Breylon and Ashton. Learn more about Taryn at divergenteducationalconsulting.com.